After 3 years
Nándor Wagne
r's
Garden of Philosophy
was completed. Speakers of the event:
Dr. András Bőhm
Chairman of Cultural Committee of Budapest City and
Dr. Gábor Tamás Nagy
Mayor of 1st District.
Ms. Chiyo Wagner
expressed her thanks for all efforts. From now on the people can enjoy the group of statues both in Budapest and Tokyo. At the ceremony
H.E. Ito Tetsuo
Ambassador of Japan and
H.E. Gauri Shankar Gupta
Ambassador of India were also present. Flute music was played by
Prof. Zoltán Gyöngyössy
of
Liszt Ferenc Music University
. Posing for this joyful event on our photo H.E. Ambassador Ito with his wife, Ms. Chiyo Wagner and our President Mr. Sandor Kiss.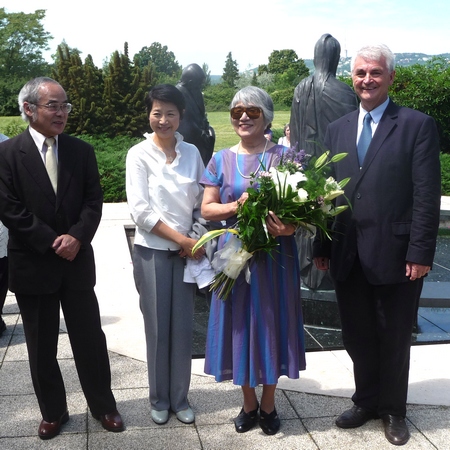 Photo: László Gergely